Posted by Ami Brough - August 06, 2015
Tying the knot? Congratulations! We've all heard the phrase 'tying the knot'..... but where has the phrase come from? For that we need to take a wee trip into the history books....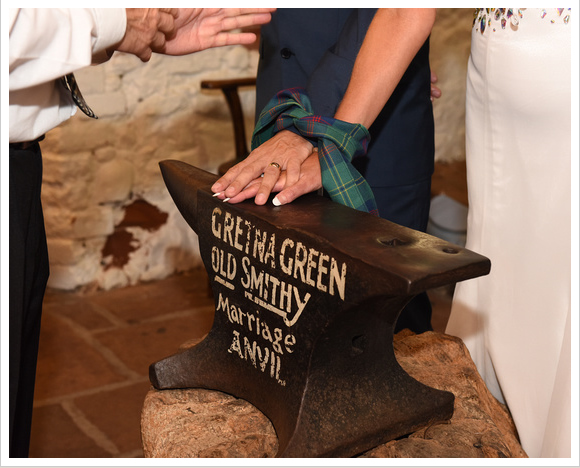 'Tying the knot' is believed to come from traditional handfasting which dates from the medieval times. This ritual, involving the tying or binding together of a wedding couple's hands often with cords or ribbons, was the term used for "betrothal" -- that is, for the ceremony of exchanging future consents to marriage and agreeing to marriage contracts....our modern day engagements! These 'irregular marriages' did not have to take place in a church or even with witnesses to be considered legal.
The Church tried to gain control of these "irregular marriages" by introducing ceremony. In 1563 the Church added religion into the marriage process by declaring that to be legal a marriage had to be undertaken by a priest and have the consent of the Church. However, civil law still recognised its own, simpler, form of wedding. In a civil "marriage by declaration" or "handfasting" ceremony, by "fasting" or joining hands before witnesses and declaring their wish to marry, a couple was married. This type of ceremony remained quite independent of the Church!
By the 18th century, the Kirk of Scotland no longer recognised marriages formed by mutual consent (handfasting) even though it was still considered legal! This opposition between church and state persisted until 1939 when Scottish marriage laws were reformed by the Marriage (Scotland) Act 1939 and handfasting was no longer recognised as legally binding.
Not one to disappear off into the sands of time, handfasting has remained part of many a wedding day, today a symbolic way of representing the joining of the couple in marriage within the modern legal ceremony. For many couples, it's a nod to tradition and often the cloth used for the handfasting is made from the tartans of the two families. Part of living history, this romantic handfasting tradition is very much alive today including right here in Gretna Green...both as part of the wedding ceremony and a special ceremony on its own!

Here's to becoming part of a living history.....
Photo courtesy of Colin Carpenter Photography.