Posted by Ami Brough - May 15, 2013
Weddings... They do take a little bit of planning don't they? (which is why we have our own team of wedding planners to help our Gretna Green couples). However, imagine adding "Training for a 980-mile cycle from Land's End to John O'Groats" to the to-do list...We certainly can't but yesterday we met a wonderful couple who did just that!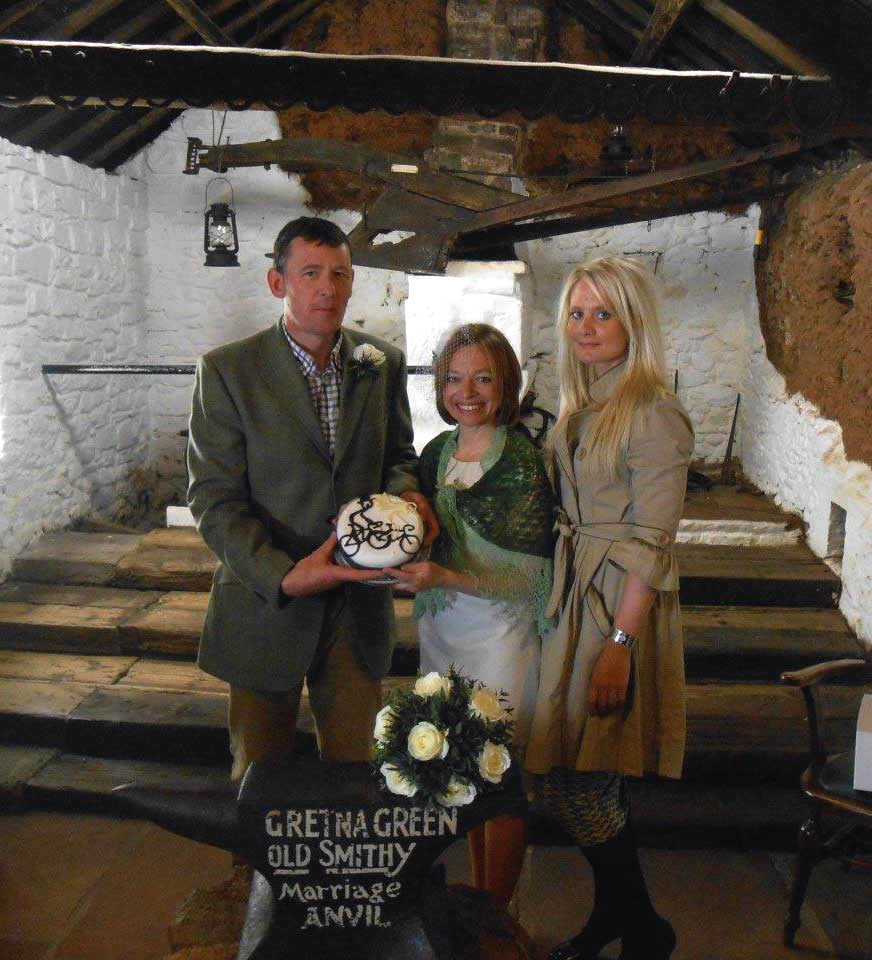 Fitness enthusiasts, John Jameson and Julianne Adams have always loved the outdoors and wanted to do something special to commemorate their wedding... and what's more special than doing a cross country journey by bike. And we were delighted to have them with us here in Gretna Green yesterday for their wedding at the Famous Blacksmiths Shop! We really enjoyed talking to them and hearing about their trip so far! The couple's schedule for their 16-day cycle-then to John O'Groats is:
Day 1/May 5: Depart Land's End for Fowey (Cornwall)
Day 2/May 6: Depart Fowey for Moretonhampstead (Dartmoor)
Day 3/May 7 Moretonhampstead to Street (East Devon)
Day 4/May 8 Street to Monmouth (South Wales)
Day 5/May 9 Monmouth to Clun (Shropshire)
Day 6/May 10 Clun to Runcorn (Cheshire)
Day 7/May 11 Runcorn to Slaidburn (Lancashire)
Day 8/May 12: Slaidburn to Keswick (Cumbria)
Day 9/May 13: Keswick to Gretna Green (Dumfries & Galloway)
Day 10/May 14: Wedding Day at Famous Blacksmiths Shop (Gretna Green)
Day 11/May 15: Gretna Green to Abington (South Lanarkshire)
Day 12/ May 16: Abington to Loch Lomond (Trossachs National Park)
Day 13/ May 17: Loch Lomond to Glencoe (Highlands)
Day 14/May 18: Glencoe to Inverness (Highlands)
Day 15/May 19: Inverness to Crask Inn (Caithness and Sutherland)
Day 16/ May 20: Crask Inn to John O'Groats (Caithness)
As our way of saying congratulations to the happy couple and to celebrate them reaching Gretna Green, we thought it would be a nice gesture to present them with a bicycle-themed cake! (pictured here with one of our wedding co-ordinators at Smiths Hotel, Sophie Lytollis).
So, if you're about on these days and you see the couple, be sure to wish them congratulations. What a fantastic idea to celebrate getting married and we wish the new Mr and Mrs Jameson all the best for the rest of this journey and their married life.