Posted by Ami Brough - May 30, 2016
Who doesn't love weddings....especially weddings held in romantic Gretna Green? Here's your chance to sneak a peek into the world of Wedding Town Gretna Green!
Think back to last summer when we had a film crew here at Gretna Green Famous Blacksmiths Shop collecting footage following different weddings, blessings and vow renewals taking place across Gretna Green including the special ambience and tales from our very own Famous Blacksmiths Shop.
We can now reveal that after many weeks of waiting and wondering, the big reveal is just around the corner coming to a television near you June 2016!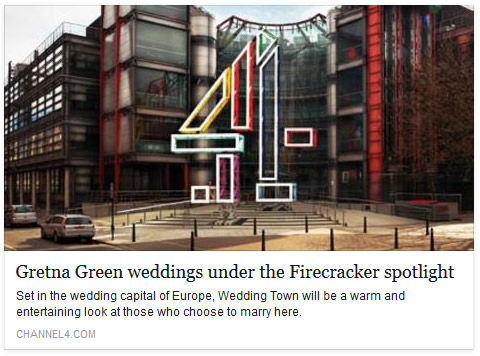 This June the special ambience of this famous Scottish village will reach a television near you through Channel 4's Wedding Town. Over 3 weeks, the magic of television will reveal the tales of the town including some from our very own Famous Blacksmiths Shop! Set in the wedding capital of Europe, Wedding Town, will be an entertaining look at those who choose to follow in the footsteps of centuries of tradition and marry here....as well as the many teams involved behind the scenes to make each ceremony special. From the wedding planners, professional witnesses, florists, cake makers and even pipers, Wedding Town is set to follow all of the drama and the romance of each ceremony and those that made it perfect.
Definitely feeling real now.... don't forget to keep an eye on our Facebook page where we'll be sharing updates and more as Gretna Green arrives on the small screen!
Join us as Wedding Town shines a spotlight on Gretna Green, one of the world's most famous wedding destinations, on Channel 4 this June! We'll go grab the snacks....