Posted by Ami Brough - May 17, 2017
We love talking about all things weddings here! As we welcome our happy couples to Gretna Green Famous Blacksmith Shop, Smiths Hotel, Greens at Gretna, Gretna Hall or the Old Toll Bar we get asked many questions... We've been hearing some quite frequently so we've gathered our most frequently asked questions about Gretna Green which we've had our wonderful wedding team answer...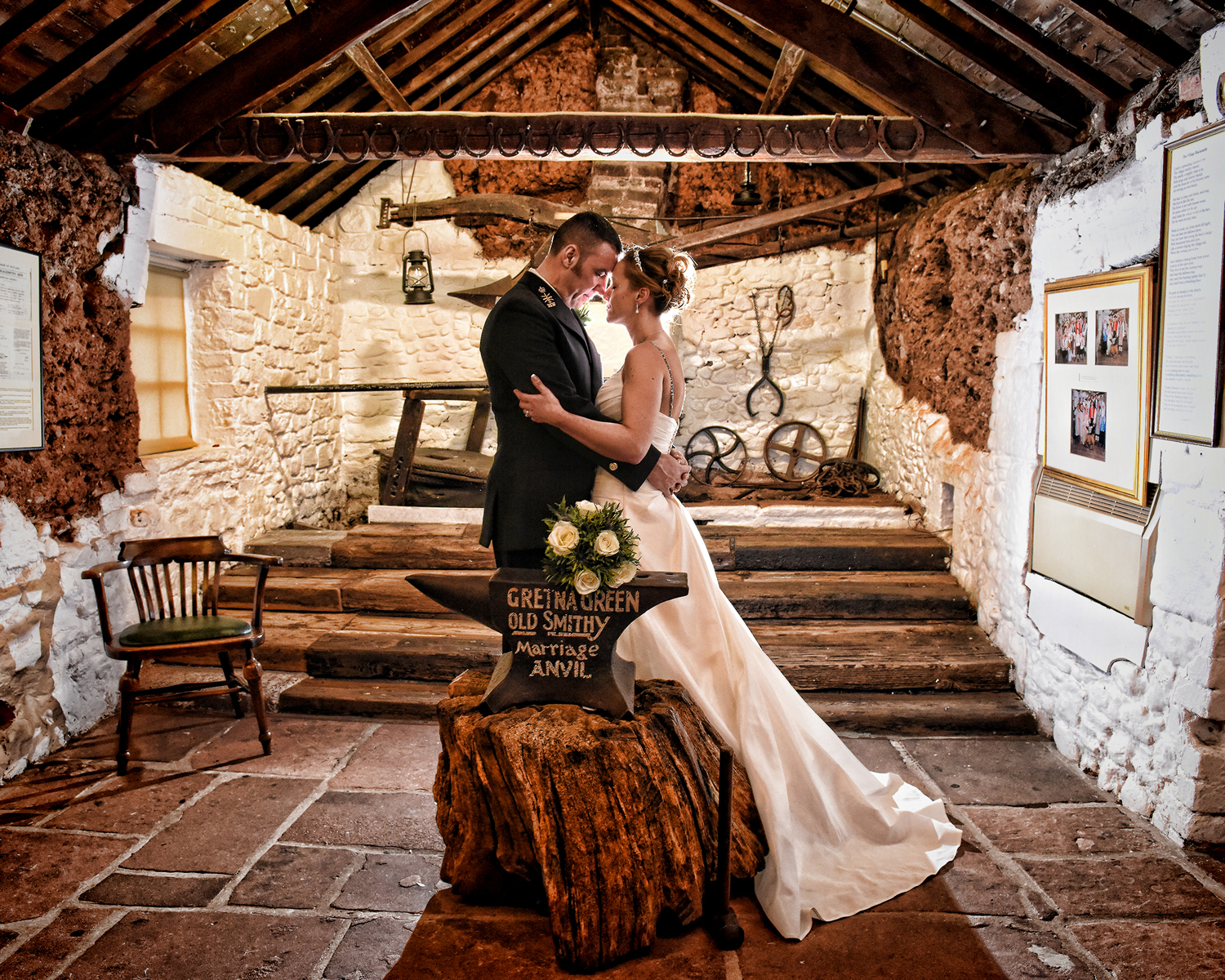 Gretna Green FAQs
#1: How long is the waiting list to get married at Gretna Green?
Great news - there isn't one! You should be able to book on the day of your choice! Popular or iconic dates (such as Valentine's Day or New Year's Eve) DO get booked out very very quickly here .... in fact, we had enquiries for dates like these arrive several years in advance! If your heart IS set on getting married on one of these days, booking as soon as possible is definitely a good idea!
Not to worry though.......often, there will be space especially if you're willing to make a few compromises (for example, changing to earlier or later in the day, having a smaller reception). Don't be put off - contact our wedding team here at Gretna Green even if you think you've left it too late!
Not picky on the date but know that you want to get married here? Have you considered a weekday wedding? Especially in shoulder months, these weekdays can be quite quiet......giving you heaps of choice over the time of day! Not to mention that mid-week weddings are occasionally on offer or free from weekend supplements! Don't hesitate to ask about your 'wish list' dates .... More times than not, you will be able to have your cake and eat it too........or get both your dream wedding venue AND date.
#2: Can we simply turn up on the day and get married over the anvil at the Famous Blacksmiths Shop?
Well...not really. The day of the true 'runaway' wedding has gone the way of the dinosaur thanks to legal requirements (Romance however is by no means extinct!). Nowadays, couples have to book their wedding at least 29 clear days before in order to complete the necessary forms and (you're all expecting this bit we're sure) pay fees.
#3: We've been told that you have to live in Scotland to marry at Gretna Green ... is this true?
Simple answer: no. Requirements have changed since 'runaways' first flocked to Gretna Green, and it may be a wee bit more complicated if you live outside of the UK, but those infamous residency requirements are no more!
#4: Can I organise a surprise wedding?
Super romantic! For legal reasons - no, both you and your partner are required to submit documentation and forms such as the M10 beforehand - and, unfortunately for those wishing to 'surprise' their partner, signatures from both of you are required. But fear not! You can still plan those romantic surprises ... you can plan (almost) all of the wedding without your partner's help...but, (and this is the important part) they will have to know that they're getting married!
#5: You can elope, just the two of you, to Gretna Green.
This one's true! You don't have bring anyone if you don't wish to...in fact, passers-by participate in quite a few weddings here every year, acting as witnesses or even impromptu photographers! Adds to the runaway romantic feel don't you think?
#6: Will my Gretna Green wedding be legal - we're not from Scotland?
Weddings held here are legally recognised in all countries! After all, restricting the legality to within Scotland's borders would have put a, errr, hitch, in the plans of the original runaway couples...
#7: Can we have a religious ceremony if it's a second marriage?
Everyone wishing to get married at Gretna Green has the same options. If you desire to have a religious ceremony, the option is open to you - even if you and/or your partner have been married before.
Ready for more information or to book? Please contact us on [email protected] or ring us on +44 1461 336001!