Posted by Ami Brough - September 27, 2012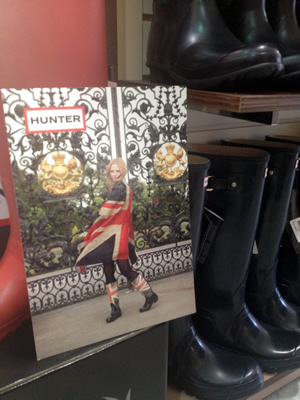 It has been revealed in the news this week that Kim Sears, girlfriend of our own Scots hero, Andy Murray was sent a striking pair of 'golden' Hunter Wellies after Andy Murray won his gold medal at the London 2012 Olympics. This is a great PR strategy by Hunter, given that Andy also recently won the US Open - well done Andy! His glamorous girlfriend is ideal for celebrity endorsement but sadly this stunt backfired for Hunter since it only works if the prospective customer will actually wear them! Maybe Andy would have worn them if gifted to him but perhaps Hunter were scared they may get them 'rallied' back to them with his lethal back-hand slice...! So, gold wellies are not to Kim's taste but we'll let you decide!

Kim Sears Gold Hunter Wellies

After stumbling upon this article, in the midst of one of the more miserable days in Scotland (it doesn't always rain we'll have you know), it got us to thinking about the advantages that this range of footwear will have in the coming months... Albeit, perhaps not golden welly boots, we currently have a wide range of Hunter wellies and socks in stock. Perhaps in slightly more muted/traditional colours (although the fuchsia ones will certainly ensure you're seen from a distance!).
The moral of the story? We think if Hunter wants to send out welly boots to girlfriends of sporting celebs then they may perhaps want to check that the recipient will actually wear them! Then again... we're all talking about it and perhaps that was the aim of the game! In all fairness, we think she should wear them just to be a good sport (ha... get-it?!).
For everyone else, make sure you don't end up with cold, soggy feet this Autumn... Invest in a pair of Hunters (Probably best to pick a colour which is slightly less-Olympic for longevity reasons).
Happy Shopping!