David Lang - Gretna Green Anvil Priest 1792 - 1827.
Lang, or Laing, was born in 1755 and as a young man became a peddler, walking from village to village selling small items of drapery and haberdashery.

While he was working in Lancashire he was caught by the "Legalized Kidnappers" - the press-gang and was forced to serve several years in the British Navy. His ship was captured by John Paul Jones, considered by the English as a pirate, but by the Americans as the famous father of the American Navy and Lang became a member of the pirate crew. After a time when the ship was near the Solway Coast, Lang slipped away and swam ashore to Gretna Green.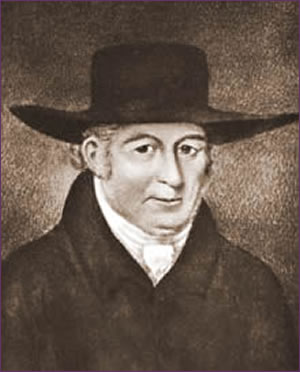 Lang was, in fact, the nephew of Joseph Paisley, the first of the 'Blacksmith Priests' and decided to try his luck at competing with his uncle. He entered the 'marriage trade' in 1792, aged about thirty-eight: "a fine looking man with a large full face, amiable expression and dark intelligent eyes".
Lang built up a lucrative business for himself and was ranked equal with Paisley, "both in prosperity and in his addiction to the bottle". He dressed in a clerical style in accordance with his self-important air, which earned him the nickname "Bishop Lang".

He married many distinguished couples and was involved in the marriage of the notorious Wakefield, abductor of Ellen Turner. He was called to give evidence at Wakefield's trial at Lancaster in 1827. Apparently, the journey was too severe for the old man and he died the same year, at the age of seventy-two.
Simon Lang - Gretna Green Anvil Priest 1827 - 1872

Son of David Lang, Simon Lang was born in Springfield, the adjacent village to Gretna Green. After his father's death in 1827, he became the only 'Blacksmith Priest' of importance who was actually born in the village. Simon Lang was described as "a kind of happy medium, neither tall nor short, in face somewhat spare, and not much otherwise in limb". He had a keen sense of humour and had a good reputation for integrity.

Like other priests of the time, he felt the substantial drop of marriages around the year 1837 and turned to weaving and smuggling to support his household budget. He managed to remain in the "priesthood" till the last, and he died in 1872.