Posted by Ami Brough - January 10, 2018
The perfect, unique proposal idea for Valentine's Day proposals in 2018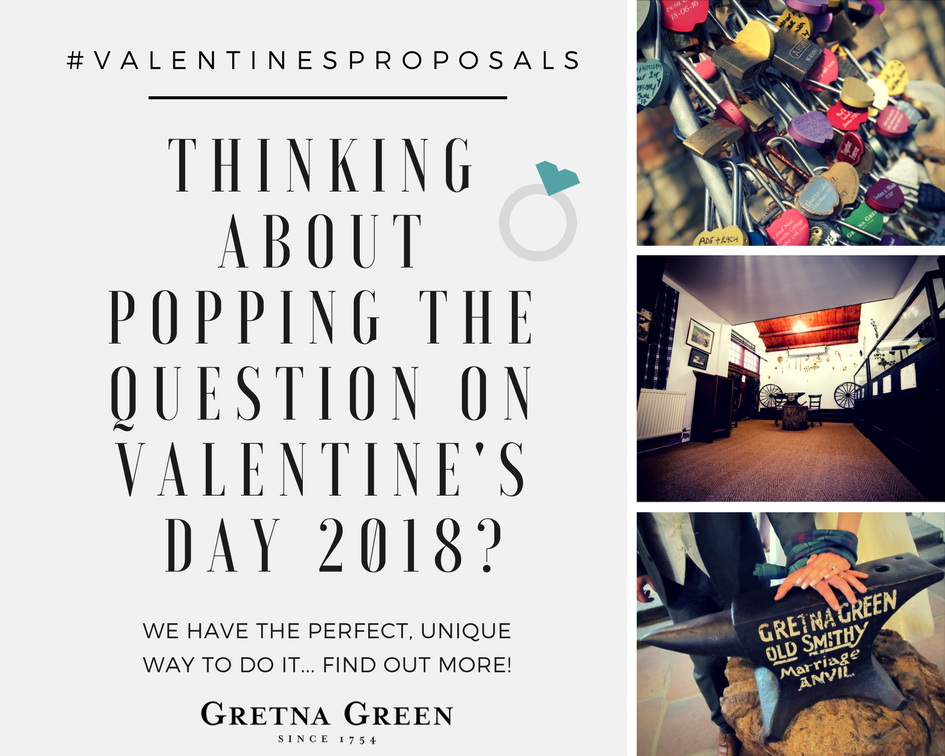 Surprise your Bride or Groom to be, with a special Valentine's Day proposal in the Famous Blacksmiths Shop at Gretna Green
If you are looking for the perfect way to propose to your future bride or groom, then you can't pick a more romantic place than Gretna Green - the UK wedding capital and home of runaway love since 1754. We know that trying to think of ways to surprise your other half can be difficult, but this year, we're making it easy, with our NEW Valentine's Day proposal package.
So what's included?
You will have private use of the Saddlery Room, here in the Famous Blacksmiths Shop to propose, after which, one of our Blacksmiths guides will perform a handfasting ceremony on you both - which is a historic ceremony used to demonstrate a couple's love and devotion for each other and as a promise of their intention to marry; as far back as medieval times. It was essentially the historic engagement ring!
After your proposal and handfasting, you will be presented with a Gretna Green LoveLock, to commemorate your beautiful day; which you can choose to take home, or why not 'Lock in your Love' at Gretna Green, by placing it on our LOVE Wall or hiding it within our Courtship Maze. We will provide a pen for you to add your names and date if you wish to hang it while you are here! You will also receive FREE entry into the Museum and Exhibition for you and your other half... and if you want to bring anyone with you, over 12s will pay just $4.80 per person, entry.
How do I book?
If you would like to book your Valentine's proposal, for this February 14th 2018, please call 01461 337893 or email [email protected]