Posted by Administrator - July 03, 2019
Summer Holiday Days Out at the Famous Blacksmiths Shop, Gretna Green
It's finally time for the summer holidays! So, why not do something unforgettable this summer with an exciting family day out at Gretna Green's 5-star Famous Blacksmiths Shop Attractions? We have so many incredible things to see and do for a truly memorable adventure – perfect for the kids, and, even better, we're dog-friendly too! Click the map below to download your own: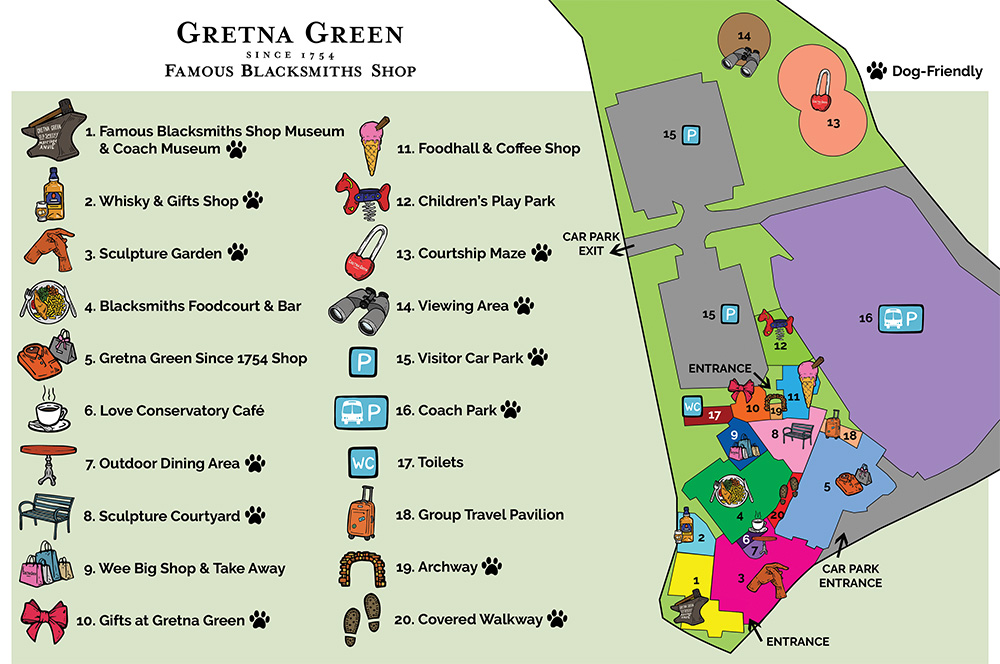 ---
Our Perfect Day Out at the Famous Blacksmiths Shop
Here at Gretna Green, we have so many amazing things to discover! Here's just one way you could spend your trip to the Original Home of Romance this summer: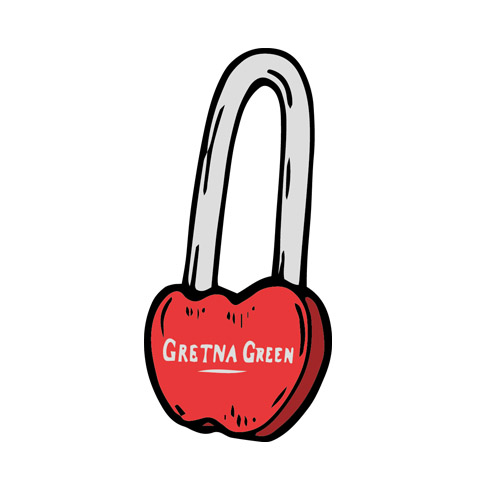 1. Burn Up Some Energy in our Outdoor Space
With swings, spring rockers and a colourful, wooden climbing frame with slide, our exciting children's outdoor Play Park is brilliant for energetic kids and also has plenty of seats where you can enjoy a coffee from our Foodhall next door while keeping a close eye on your little ones. Why not bring a football to kick around our outdoor space? Or even bring your four-legged friend along for a scenic walk before discovering the marvels of the Famous Blacksmiths Shop Attractions.
Check out our completely FREE Courtship Maze, created in the shape of two intertwining wedding rings and featuring a bridge with incredible views across the grounds. Our Courtship Maze is fantastic fun for all the family and open all year round! You can even see all the rows of colourful LoveLocks from years' worth of happy couples who have 'locked in their love' forever at Gretna Green. Why not buy your own on the day to commemorate your family visit and become part of our living history?

2. Learn About Our Runaway Heritage at the Famous Blacksmiths Museum
Explore the Famous Blacksmiths Shop Museum and find out all about our unbelievable history of elopement, scandal, crime and love. Step inside the Original Marriage room where our story began, right back in 1754, and snap a photo of the very first Gretna Green marriage anvil! Then discover a world of antique travel in our Transport & Coach Museum with an incredible collection of 19th Century coaches, including King William IV and Queen Adelaide's very own royal carriage!
Plus, for this summer only, Gretna Green are proud to be hosting the exclusive 'As You Like It' Costume Exhibition; featuring awe-inspiring, handmade designs by Third Year Performance Costume students from the Edinburgh University's College of Art (ECA). See first-hand the magnificent detail in these bespoke bridal pieces, inspired by various time periods between the 1600s and 1950s, and taking design inspiration from the Shakespeare classic, 'As You Like It'.
For just $4.80 per standard ticket ($3.80 for students) and under-12s go FREE, including all-access entry to our world-famous museum, this creative exhibit truly is a must-see this summer!
Got time to spare? Then why not consider a family Anvil Handfasting, unique to Gretna Green? Available to book online before your visit, or ask about availability on the day!

3. Grab a Bite to Eat and Drink in our Blacksmiths Foodcourt and Bar
During your visit, enjoy anything from a light snack to a hearty, homemade meal at the Blacksmiths Foodcourt & Bar. With a delicious selection of cakes, sandwiches, hot and cold drinks, and traditional Scottish cuisine, there's something scrumptious for all tastes.
Prefer to sit outdoors? With our LOVE Conservatory Café's outdoor seating area, you can enjoy your food and drinks from our Foodcourt or LOVE Conservatory in the summer sunshine with glorious views across the Sculpture Garden, where you may well spot a wedding or two! Best of all, this outdoor dining area is completely pet-friendly!

4. Shop Gretna Green Famous Brand Fashion, Jewellery, Whisky, Gifts & Food
Discover our huge range of big-brand clothing & accessories from Swarovski, Radley, the Cambridge Satchel Company, Joules, Barbour, Craghoppers and many more! Shop unique Scottish jewellery from Heathergems and Sheila Fleet, grab yourself the latest tartan bags and accessories from Harris Tweed and Ness, and explore our great range of luxury cashmere, tartan, kilts and clans.
You'll have the perfect opportunity to grab a Gretna Green gift for your loved ones with anything from Scottish shortbread to thistle teabags, ornaments to hip flasks. Be sure to stop by the Whisky & Gifts shop after your museum adventure for our brilliant variety of Scottish gins and whiskies. Find yourself a tasty tipple to take home, including the world's smallest bottles of whisky! Or why not try one of one of our Whisky or Gin Tasting Experiences?

5. Finish Off the Day with Ice Cream, Sweets & Doughnuts
Our Foodhall at Gretna Green is jam-packed with a delicious selection of Scottish whisky, gin, beers, snacks and delicacies available to take home. From the unique flavour combinations of Gretna Green jams and marmalades to the traditional tastes of Scottish shortbread, haggis and clootie dumpling, there truly is something for everyone to take away from their adventure. Why not have one of our bespoke hampers made up for a unique, personal Scottish gift to take back home?
Before you go, be sure to treat the family to a refreshing Mackies ice cream or a fresh, tasty doughnut; the perfect end to a wonderful day! Ice cream not quite your thing? Well, with our new, traditional Sweetie shop, you can find all the classics from Humbugs to Oddfellows and many more to keep you sweet on the journey home.
---
Visiting Gretna Green
There are so many fantastic ways you can spend your Gretna Green adventure. Visit us this summer at the Famous Blacksmiths Shop Attractions to create your own incredible, unforgettable experience.
Simply pop DG16 5EA in your Sat Nav, or find directions to Gretna Green here: