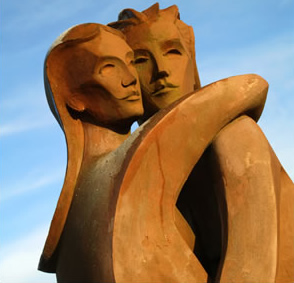 Take a pleasant stroll through the Sculpture Garden or relax in the seating areas provided for you to enjoy the view. Sculptures created by amateur and professional artists are displayed amongst colourful planted areas. The Sculpture Garden was opened by Britt Ekland in 1994 and many visitors have admired the collection of sculptures created by local, national and international artists. The Gretna Green lovers, for example, must be one of the most well photographed 'couples' in Scotland.
The latest addition to the Sculpture Garden at Gretna Green...
The Big Dance is the title for the centrepiece sculpture installed recently in the Sculpture Garden at Gretna Green, created by Ray Lonsdale a highly acclaimed artist from County Durham.
Stop off the M74 and break up your journey to visit Gretna Green and this impressive sculpture of two hands clasping, which stands 13 feet tall. Made of weathering steel (the same material as the Angel of the North). The sculpture creates an impressive backdrop for wedding photography and holiday snaps.
Also, take a walk around our courtship maze, or take time to visit our range of shopping retail outlets and places to eat with areas to walk your dog and a play area for your kids to take some time out too.