Group Food and Drink Tasting Experiences at Gretna Green Foodhall
Scottish Tasting Tours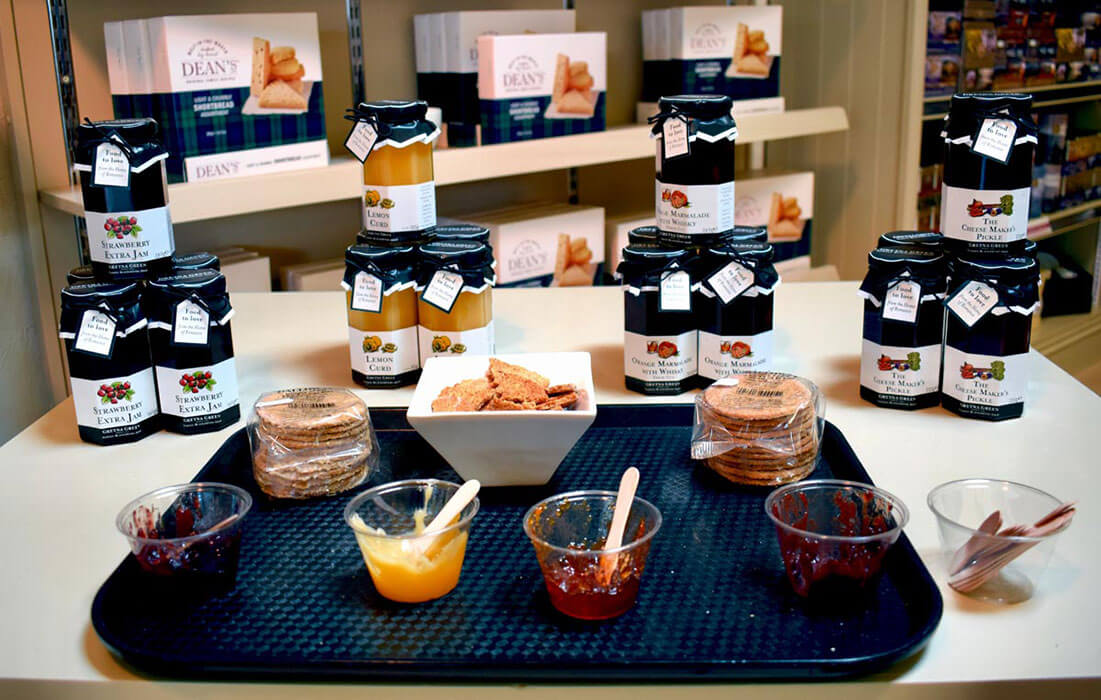 When visiting the 'Gateway to Scotland', what better time to experience the culinary curiosities of Scottish cuisine. Our unique food tasting experiences offer groups the chance to try some of Scotland's most famous flavours.
There are, regularly, products to sample available in the Foodhall, but our group tasting experiences offer a chance to try the Scottish classics.
Find out more about our available experiences below.
Foodhall Tasting Experiences...
Scotland Food and Drink Experience
Discover their history and sample the unique Scottish flavours of the:
Clootie Dumpling
Salmon
Shortbread
Tablet
Haggis
Irn Bru
From $7.10 per person*
Taste of the Scottish Borders Experience
Every part of Scotland is famous for its unique culinary delights. Learn more about the popular tastes from Scottish Borders:
Selkirk Bannock
Ecclefechan Tart
Honey & Oatcakes
Ecclefechan Wine
$3.20 per person*
The Shortbread Story
Learn about the fascinating history of shortbread and sample some of Scotland's favourite brands while learning about what made them famous:
$3.20 per person*
The Taste of Scotland - Whisky & Food Pairings
For the ultimate Scottish tasting experience, our 'The Taste of Scotland' tour is a must. Combining 6 traditional Scottish drinks with 6 traditional Scottish foods, this unique culinary experience will tantalise the tastebuds. Afterwards, your group can buy all of the products tasted, from our Foodhall; to enjoy for many more 'drams' in the future.
Please enquire for pricing and timings for this group experience.
Large Group Tastings
Bringing a larger group with you? Don't worry, we can accommodate larger parties with private tastings held in our Foodcourt or by splitting your party into smaller groups.
Getting Here
Gretna Green and the Famous Blacksmiths Shop attractions are only 2 minutes travel time from the main motorway route into Scotland (M74) and the M6 just north of Carlisle. With a full-service coach park and expert group travel team to greet you, where better to bring your next tour, that the five-star visitor attraction of the Famous Blacksmiths Shop.
*Prices correct on 14/01/2019. $7.10 per person based on bookings of 6 or more people. Groups under 6, please contact us for more information.
Please note: Images are for demonstration purposes and may not exactly represent the products available/used at the time of visit.