Visitors to the UK who live outside the EU are eligible to receive a VAT refund on purchases made during their stay in the UK
At Gretna Green Famous Blacksmiths Shop we also provide a worldwide mailing service which guarantees quick delivery and a bureau de change.
We are situated just off the M74 not far from Carlisle, we offer a wide range of services as well as great places to shop and eat such as the Blacksmiths Foodcourt and the Foodhall selling a range of snacks and meals as well as lots of local fresh produce.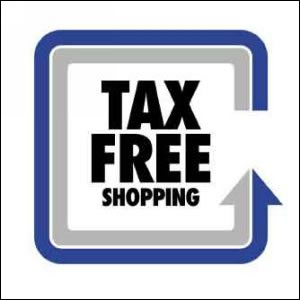 To Shop Tax-Free you need to:

1. Reside outside the EU
2. Make a minimum purchase of $38.10 and collect a VAT refund form at the time of sale
3. Take goods home within three months of the date of purchase

To Get a Refund, at airports with a Customs Desk (i.e. Heathrow) you need to:
1. Visitors go to the H.M. Customs & Excise desk before check-in.
2. Have the goods, receipts and completed form with them.
3. Get a Customs stamp and post the form in the pre-paid envelope.

To Get a Refund in airports with no manned Customs Desk (i.e. Scottish airports) you need to:
1. Check in as usual
2. Place the form in the pre-paid envelope into the "VAT Retail Export Scheme" box provided by HM Customs & Revenue. This is usually found at passport control or after security.
In both instances, the refund will be made to a major credit card or by bank cheque.
Visitors may also take their stamped form to the refund point at Heathrow airport for an immediate cash refund for purchases between $126.90 and $1,268.70. There may be a charge made for this service.
UK Tax-Free Refund has City Cash Refund Centres in both Inverness and Edinburgh. For purchases between $95.20 and $1,268.70 visitors may take their completed form to these locations and receive a cash refund while still enjoying their stay in Scotland.

To Receive a Cash Refund you need to:
1. Take the completed form to the UK Tax-Free City Cash Refund Centre.
2. Have a Visa or MasterCard with at least 3 months till expiry.
3. The agent takes a pre-authorisation on the credit card and for a flat fee of $1.30 will give a cash refund.
No Customs Stamp = No Refund
All forms whether refunded to a credit card or those which have been pre-paid at a cash refund point must have a Customs stamp on them and must be returned to UK Tax-Free Refund Ltd.
Some goods are not eligible for VAT refund:
1. Childrenswear
2. Basic foods
3. Books
4. Consumables such as petrol, services, hotel rooms or meals