Weddings
Posted by Ami Brough - January 07, 2014
If you're anything like us, the timeline on your facebook or twitter newsfeed gained a certain trend over the holidays. You may have even posted the status yourself!
You guessed it - we're talking about engagements this past Christmas or New Years!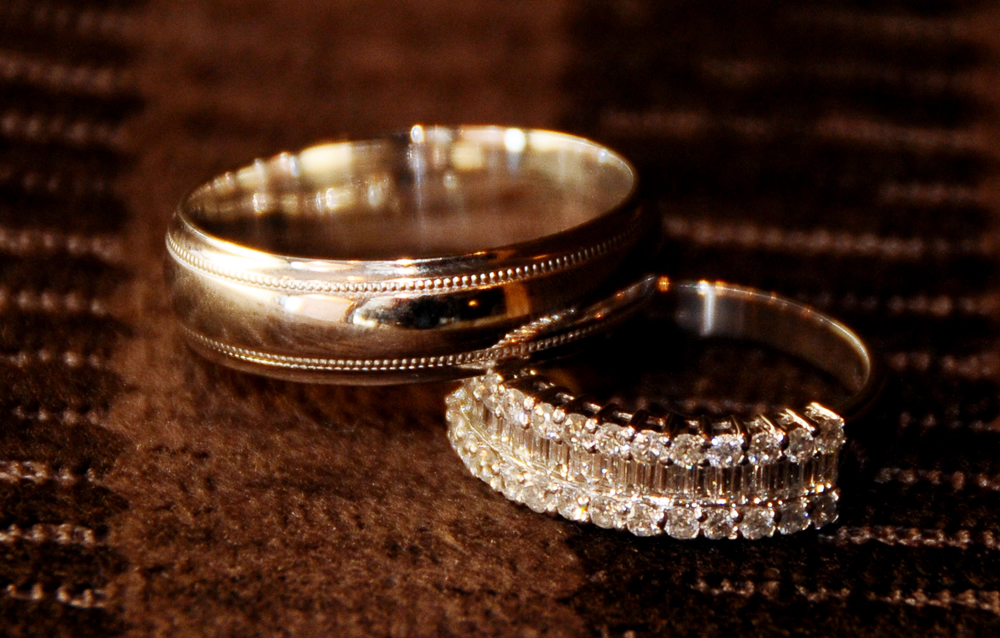 First of all - congratulations! Then.........now what? Where does one even start planning? We thought we'd share a little of the collective wisdom gained from years of wedding planning here at Gretna Green to help .... after all, it's very easy to get yourself muddled with all the decisions to make from canapés to your menu to reception location or design!

Posted by Ami Brough - July 18, 2013
As we're busy writing this, we're all reminiscing in the office about the weddings we've been to over the years; including some of our very own! One thing that's always a talking point are the different wedding traditions often seen here in Scotland, especially in Gretna Green (which in itself is one of the longest wedding traditions in the world). We often see some of these traditions on a daily basis...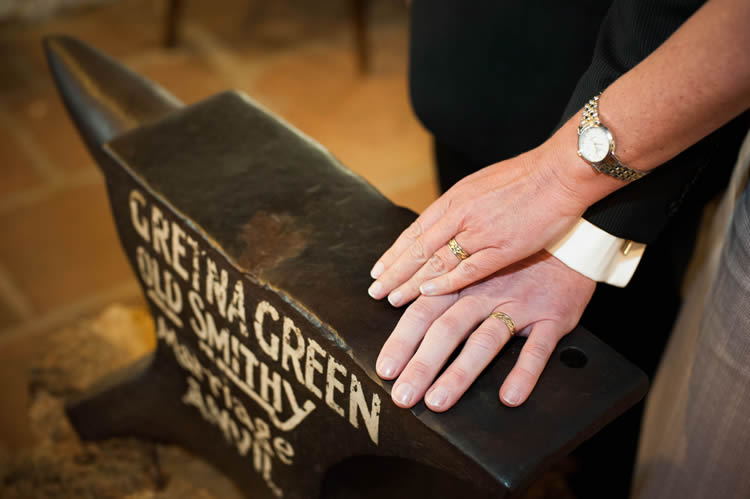 1. Passing of the Quaich
For this tradition we're going back as far as the 16th century to when King James VI of Scotland presented a Quaich to Anne of Denmark on their wedding. Quaichs are traditionally a silver or pewter cup which comes with two handles and is known as the 'loving cup' or the 'cup of friendship'. At a Scottish wedding, the tradition is to fill the Quaich with whisky and you will often find it used at the start of the ceremony, as a way to welcome friends and family! A couple would also drink from the Quaich as a symbol of trust and unity.
Nowadays you may find couples making slight changes to the tradition. Perhaps your guests aren't partial to a dram, some brides nowadays are exchanging whisky for gin or bubbly (we'd still recommend the whisky, traditions and all that!) but whatever takes your fancy!
Posted by Susan Adams - January 23, 2013
It's true, we hold our hands up... here at Gretna Green Famous Blacksmiths Shop and Smiths Hotel we can indeed offer 'cheaper weddings' alongside an offering including 20 guest, 50 guest and 75 guest packages... but we'd say firmly that our more economic packages were anything but 'cheap'...
Posted by Ami Brough - November 19, 2012
Our lovely wedding team here at Gretna Green have come up with a few helpful tips for Grooms (or perhaps more likely for our fabulous Brides to pass-onto their Grooms...)
So Grooms, listen up,
1. Groom Planning:

Make sure you do your part in planning the wedding. Although your soon-to-be bride will often say that she is happy with taking charge of planning the wedding, chances are she will secretly appreciate you taking some things off her hands. Whether it be sending out the invitations, or helping with venue arrangements, this will all help to relieve some stress and mean you have more time to yourselves together.
2. Wedding party outfits:

If you're hiring kilts or suits for your wedding party then be sure to have a practice dress rehearsal to avoid wardrobe malfunctions. This is not something that many men would think about but our wedding team has had to sort out quite a few mishaps in their time. You want to look your best on your wedding day so get up a little earlier on the day and leave yourself plenty time to get dressed. Trust us, it will be worth it!
3. On the day organisation:

Check that all your guests have directions and transport to your wedding venue. Choosing a sensible best man who can help with all these tasks is a must... Remember to make sure you and your best man are organised with directions too and get ushers to help with directions on the day also!
4. The Night before your wedding:

Although many men may have had a Stag Party weeks or months in advance even, sometimes (mainly from pressure from the Best Man) a drink the night before your big day seems like a good idea... trust us, the hangover in the morning really isn't worth it! Especially when everyone will be looking at you and your bride for the whole day! So make sure your best man knows this in advance and have a nice relaxing night before your big day.
5. Speech Preparation:

Do a run through of your speech before the reception. If you are very good at speeches then by all means go to town with yours, but if you struggle with speaking in public then keep it short and sweet. If you're really not comfortable with the idea of public speaking then we would also recommend having the speeches before the wedding breakfast so that you can relax and enjoy your meal afterwards.
6. Surprise your bride with a pre-wedding gift:

It doesn't have to be anything big, just a small surprise present before the big day will score you a lot of brownie points! Perhaps you can organise to get it left in her room while she gets ready? Our team would recommend something sparkly and romantic...
7. Remember to tell your bride how beautiful she is:

This one is pretty obvious but will mean a lot to your bride!
8. And... relax!

Last but not least... It's your day too so remember to enjoy it... You've done everything on your "to do list" and now you can relax and have a great day plus look forward to your honeymoon!
For more advice on your wedding day with us here in Gretna Green, you can always speak to our team through our Live Chat feature or book an appointment to come see us on +44 1461 336001.
Good luck with all your planning!
Your team at Gretna Green...

Posted by Susan Adams - November 01, 2012
1. Keep Warm

It's Scotland and it's winter so tip number 1 has to be wrap up nice and warm... and before you gasp we know it would be a travesty to cover up your beautiful dress so we'd recommend a lush ivory fur bolero (or whatever colour you like). A recent bride here at Gretna Green was seen sporting one of these boleros and we think she looks just fab! It's not only a timeless stylish accessory but one which will keep the chill at bay if you choose to spend any time outside for those all-important photos.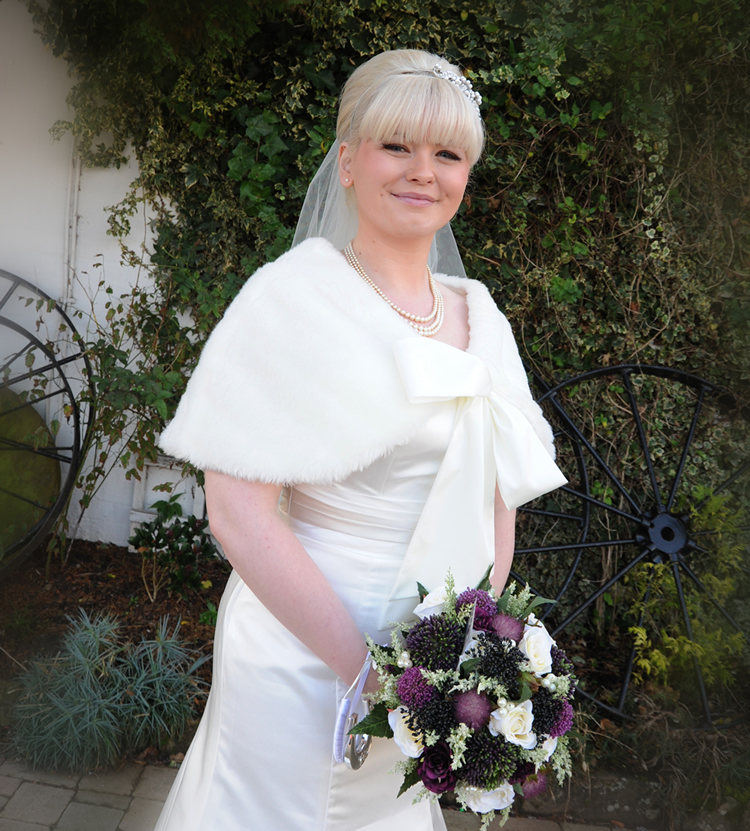 2. Winter Wedding Photography

Speaking of outside and photography, another top tip is to plan your wedding photography before you arrive. You can see great shots on all our package pages right here online or feel free to discuss with your wedding planner. Here in Gretna Green we've enjoyed white winters for the past few years now but lying snow (as well as falling snow) can prove problematic when trying to get some photographs done. We really love this image of a recent bride and groom here at Smiths but we know the bride had to lie on a warm blanket to get this shot done so be sure to bring something like this with you should you want a similar shot.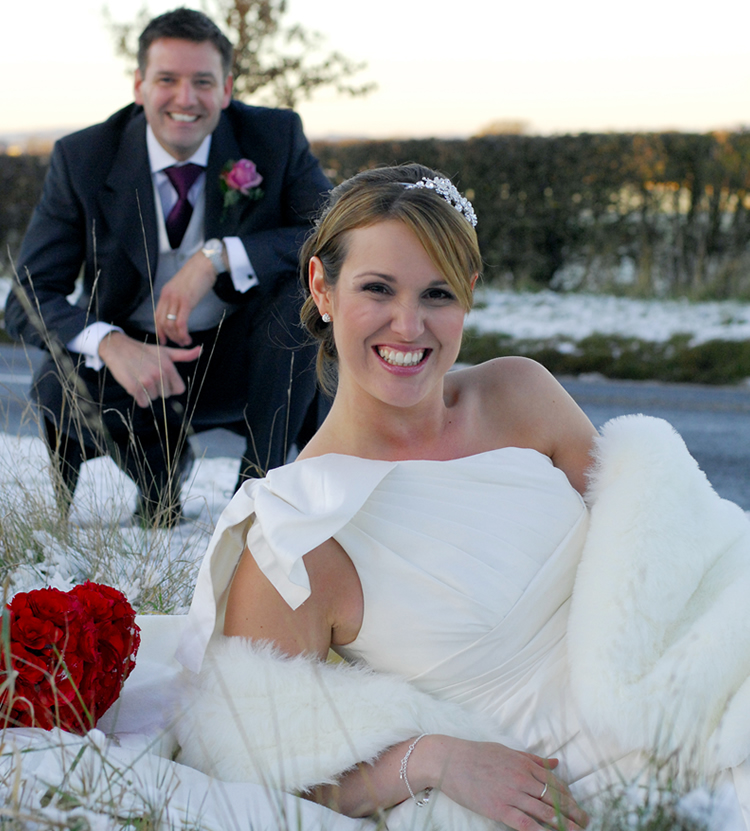 3. Timing, Daylight and Night-time

Remember this is crucial when booking your winter wedding. Here in Gretna Green we can start to lose daylight at around 3.40pm at the height of the winter so make sure you leave enough time after your ceremony for some daylight wedding shots. Well, that's only if you want to... we particularly like the below image of a bride and groom in our sculpture garden around Christmas time. If you like this image too then you can choose to leave your ceremony time until a little later and enjoy great wedding shots in and around the Famous Blacksmiths Shop.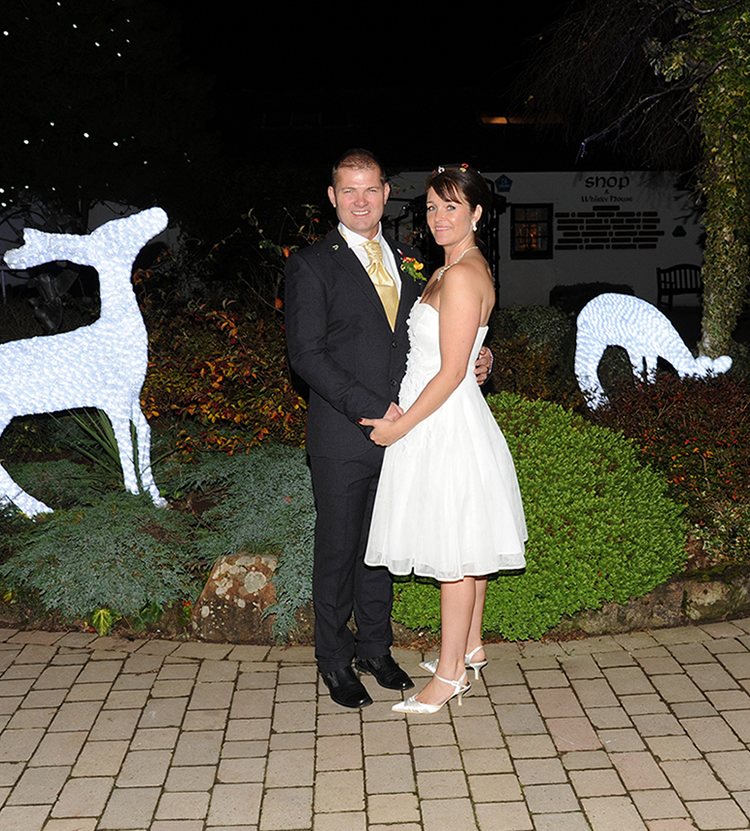 4. Your Winter Wedding Breakfast

That first meal together as husband and wife is so important! Our 4 star hotel Smiths at Gretna Green are experts at offering fabulous menu ideas! Make sure you consult with your wedding planner about menu options and bear in mind a soup in winter may be preferable to a salad or a lighter starter etc. A great place to start would be with one of our all-inclusive wedding packages which includes your meal, buffet and drinks package! If you're just joining us a couple then our private dining option is a great idea. You can then choose from our delicious a la carte menu which is seasonal also.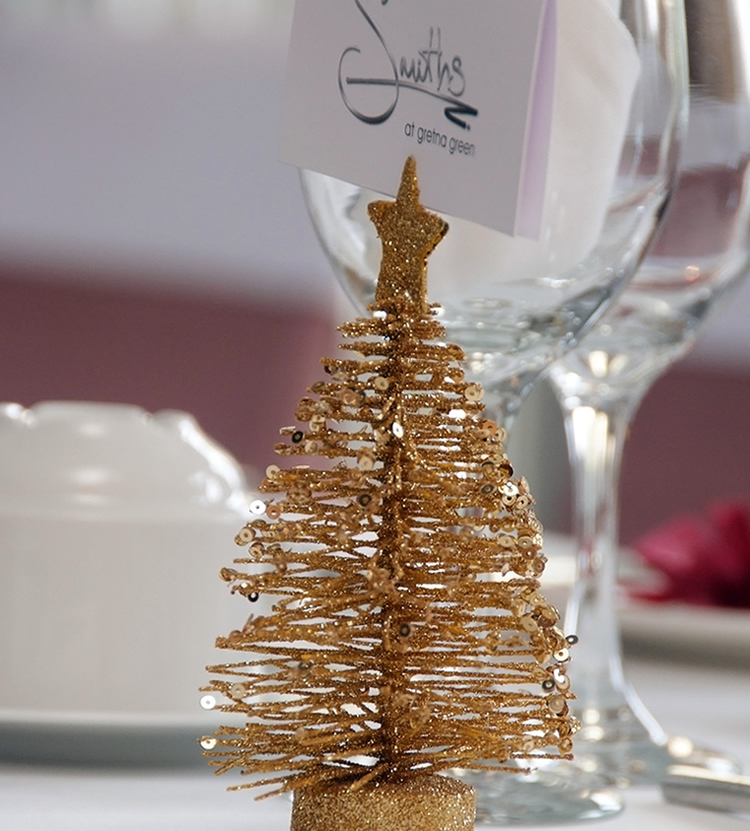 5. Travel Plans

Lastly but certainly not least think about your travel plans to and from your wedding. We'd certainly advise staying with us the night before so you can relax and know have left yourself enough time to get ready for your big day. There can be a few problems on the roads during the winter and we'd hate anyone to miss their wedding due to bad weather or traffic.

We have great rates in Smiths over the winter period so be sure to call us +44 1461 336001 or email us to check room rates.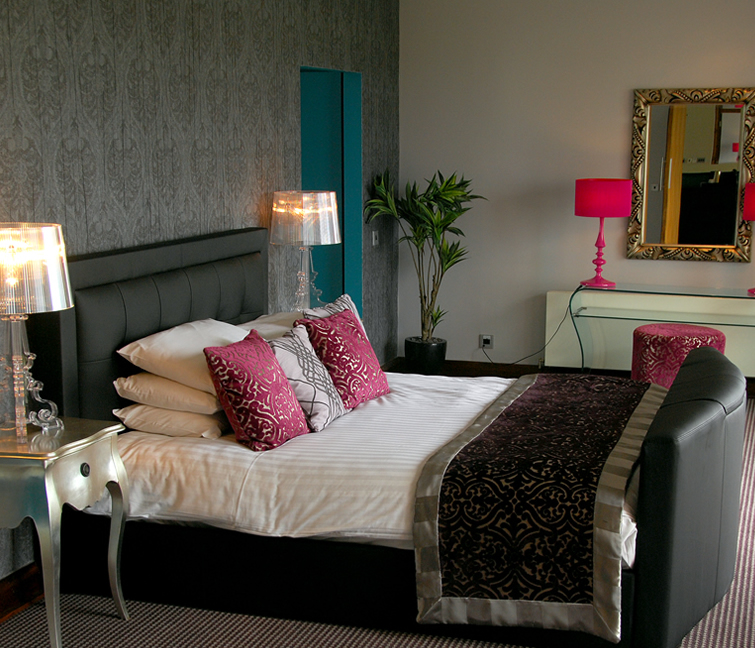 Posted by Susan Adams - July 23, 2012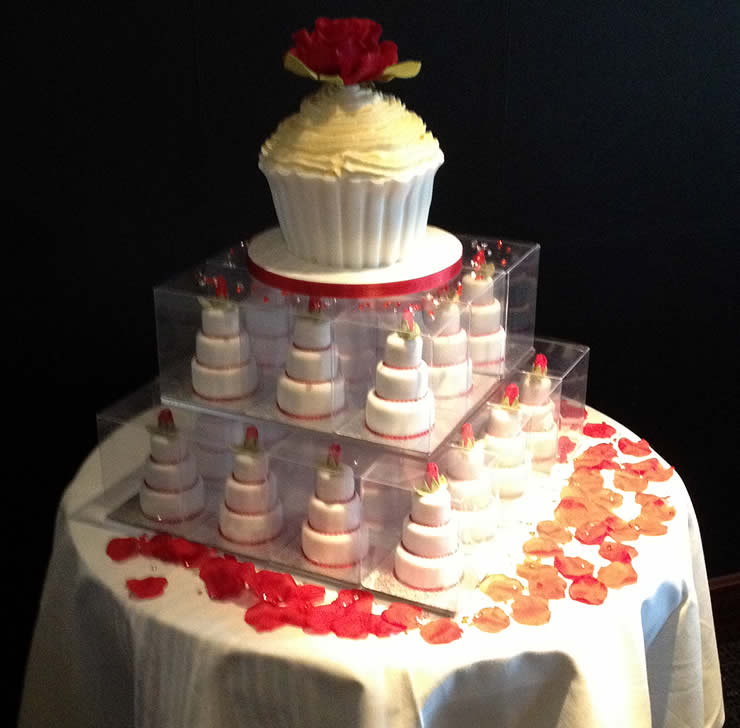 As a future bride-to-be I'm honestly amazed at the amount of different wedding cakes available out there...
Whilst out and about in Smiths Hotel last week I spotted this one and thought it looked amazing! A lovely large cupcake with fresh cream to 'cut' and lots of miniature 3 tier individual cakes for guests... A fantastic cake idea! Congrats to the Bride and Groom (and the baker) as they were all clearly very creative people.
It's always great to see all the wedding cakes showcased by our suppliers at Smiths Hotel Wedding Fayre each year in January (plus you get to taste them too!). In fact we have recently added a lovely vintage-style cake to our wedding calculator which you can add as part of your Gretna Green wedding!
Has anyone else seen a wedding cake recently that has stopped them in their tracks? Perhaps some of our lovely brides would like to share what they'll be having...?
Posted by Susan Adams - July 20, 2012
Did you know we have our very own 'exclusive to Gretna Green' celtic wedding rings? Stocked in our Whisky & Gifts shop here onsite, you can also buy them online from our shopping section. A fabulous idea if you're thinking about getting married in our Famous Blacksmiths Shop.
Choose from 2 designs, Celtic Twist and Celtic Love-Knot and 3 different precious metals, Silver, Gold and White Gold...
All rings are available in sizes J-Z.
Contact us now if you need any other info...